NEWS
Twenty Years On, China Says Panchen Lama "Living a Normal Life"
Buddhistdoor Global
|
2015-09-07
|
A senior Chinese official said at a press conference on Sunday that Gedhun Choekyi Nyima, the now-26-year-old man who vanished 20 years ago after being recognized by His Holiness the Dalai Lama as the 11th Panchen Lama, is well and living a normal life. The official did not say where the man was living.
"The reincarnated child Panchen Lama . . . is being educated, living a normal life, growing up healthily and does not wish to be disturbed," said Norbu Dunzhub, a member of the Tibet Autonomous Region's United Front Work Department. (Reuters)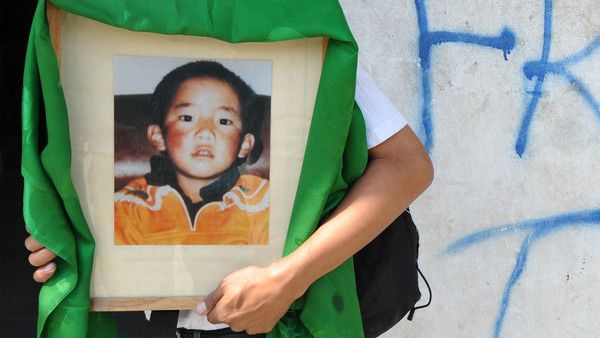 A Tibetan carries a portrait in memory of the 11th Panchen Lama Gedhun Choekyi Nyima, who
disappeared from public view 20 years ago. From ft.com
His Holiness the 14th Dalai Lama recognized six-year-old Gedhun Choekyi Nyima, who was born on 25 April 1989, as the reincarnation of the 10th Panchen Lama on 14 May 1995. On 17 May 1995, Nyima was taken into custody by the Chinese authorities, along with members of his family. He has not been seen in public since and there has been no news of his whereabouts.
Dunzhub denounced the Dalai Lama's declaration recognizing Nyima as the current incarnation of the Panchen Lama, saying the selection "ignored historical customs and destroyed religious
rituals. . . . The identification was done without authorization. It was illegal and invalid." (Reuters)
Both the Dalai Lama and officials in Beijing have made pointed public statements on the divisive matter of reincarnation, which carries significant political implications for Beijing and the stability of its control of ethnically Tibetan areas of China. Although China's government is officially atheist, Beijing has repeatedly claimed the right and the final authority to recognize reincarnations of senior Tibetan lamas, including the Dalai Lama himself.
"No matter what the Dalai Lama says or does, the central government's recognized rights toward reincarnation cannot be denied," Norbu Dunzhub asserted, repeating Beijing's long-held stance. (Reuters)
The Beijing-appointed Panchen Lama speaks at the World Buddhist Forum in Hong Kong. From theguardian.com